---
---
My Guinea Pigs
Last Updated: 3/5/12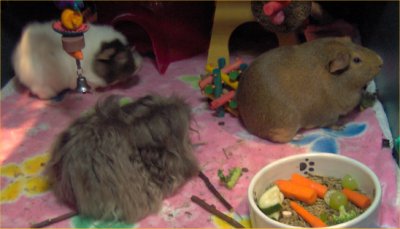 Abby (left), Avery (bottom), and Brownie (right) on 2/28/12.
My Current Guinea Pigs
My Former Guinea Pigs

Pictures, descriptions, dates, stories, and more
---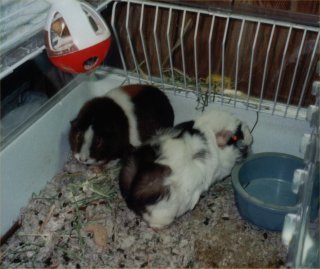 Fritz (left) and Kylie (right) on 4/21/03.
After Kylie was treated for her lice, she was introduced to Fritz. Well, this was a horrible pairing (at first)! Fritz loved to bite, fight, squeal, grind her teeth, run, eat like a hog, and act aggressive and dominant. Kylie was quiet, sweet, and NEVER bit. Put them together and you got one big, fat, mean pig and one sweet, small pig with bite wounds all over her back. This lasted for a few days when Fritz seemed to let up on Kylie and gave her wounds a chance to heal. After about a week, Kylie did not seem to have any fresh wounds, although they still fought (just without biting I guess). Thus, I concluded that contrary to all of my books, two sows do not always get along wonderfully! In this case, Fritz was without other guinea pigs from one month to four months of age which is an important time to learn how to get along with other pigs. Guinea pigs do better if they are both introduced to a new home at the same time or if they were raised together. After being together for a few months, Fritz and Kylie then got along. They rarely bit each other but still tended to stay apart. They were both fat!
As if 10/7/04, the girls got along fine but they were not really affectionate with each other. Kylie had a few bald spots that I think Fritz caused.
Kylie passed away on 11/13/05 so Fritz was alone until she died on 3/11/06.
---
Fritz moved into a new, big cage on 11/24/00. It is a Hagen Zoo Zone 2 that is 20" x 39.25" x 14.5" high. The sides are plexiglass which is nice so that my cat, Gino, could not reach her from the sides (he can put his foot through the top which he does), and Fritz could not kick her CareFresh out as easily which she was prone to doing. Her cage also included a plastic "igloo" which she stayed in most of the time, a wooden log for a short time and then a wooden box (Kylie used to sit on top of it a lot as well as inside it), her food bowl, her water bottle hanging on the outside, a hanging thing with a salt spool and piece of wood, a hanging plastic guinea pig with a bell, and a Busy Bunny basket about four times a year. This basket is made for rabbits and is entirely edible with lots of treats. Fritz and Kylie loved it! After Fritz died, my rabbit, Harry moved into this cage temporarily.
---
Click on the following links to see these additional photos.
These photos are in the order of oldest to newest.
Here is Fritz on 10/21/00. She was a baby in the picture.
Here is a photo of Fritz in her old cage on 10/21/00.
This is Fritz's cage on 12/4/00. My cat Gino is on the left. The view is down the long end.
Here is another photo of Fritz's home showing the log, water bottle, plexiglass sides, igloo (she was hiding inside), her "boredom buster" guinea pig toy, and Gino looking on, taken 12/4/00.
This is Kylie, taken the night that we got her on 1/25/01.
Here is Kylie on 1/25/01 as well.
Their Cage on 11/16/02. It is on the right under the new full spectrum light. The cages on the left belong to the hedgehogs. You can see Fritz in the cage too.
Kylie and Fritz on 11/16/02. Kylie is in the front, and Fritz is behind her. See how much bigger they are!
Fritz and Kylie on 4/21/03. Fritz is on the left and Kylie on the right.
Fritz on 2/19/05. Her last photo that I uploaded. It is shameful that I do not have a photo of her from the last year of her life. I am usually good about keeping photos of everyone.
Kylie on 2/19/05. Her last photo that I uploaded.
---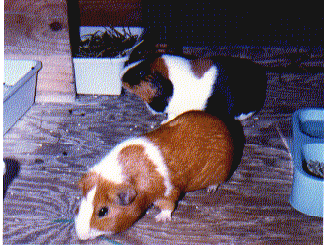 Picture of Moo (in front) and Beau, in right side of rabbit hutch for the summer, July 25, 1995.
Moo and Beau were two of four brothers born to my second cousins' guinea pigs on 10/4/91. I adopted them both on 11/3/91. Moo (named by my cousin) was a brown and white dutch while Beau was black, brown, and white (calico). Both had regular coats. Moo died on 7/20/96. Beau died on 5/3/97. Both were sweet and never tried to bite. Being males, they would make "guck, guck kkk" noises as well as the squeals of "weeeeeep, weeeeep."
---
---
Wind & Weather sells neat things for your garden!
---
---
Return to the main guinea pig page.
See the master index for the guinea pig pages.
---


Copyright © 1997-2018 Robyn Rhudy