---
---
George Michael's Page
Last Updated: 5/14/18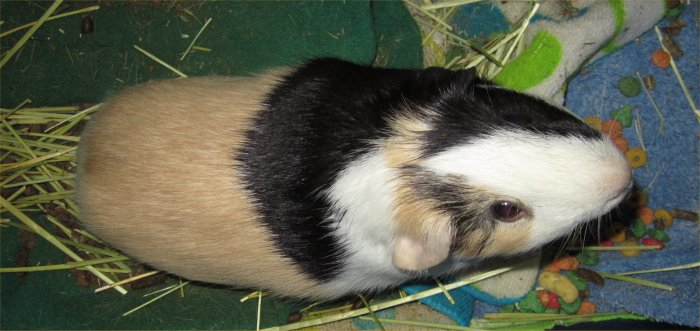 George Michael on 7/4/16.
---
Photos and videos are listed from oldest to newest.
I babysat Georgie at Thanksgiving 2015 for a week and later found these photos I took of him:
GM - in cage
GM - cute face
GM - right side
GM - posterior
GM - top view
I took these photos the morning after I got George Michael, 7/4/16.
GM's old cage
George Michael
GM after his bath
GM playing peek-a-boo.
---
On 7/3/16, a relative asked me to take their guinea pig as they could no longer care for him. His name is George Michael, after a character in the TV show "Arrested Development." He is about three years old. George Michael, or GM for short, had his back left leg amputated a few years ago due to injury. Since then, he is suffering from impacted feces. They have to be expressed regularly. I will try to get him to the vet this week to see what the vet thinks. If neutering is an option, it may help. If he is neutered, after recovering and hormones leaving his body, he can move from the cage he is in now to the top level of Pigtopia as my three pigs do not go up there anymore. Two boars, even neutered, probably will not get along so they will be separate. If GM outlives Brownie, then he will (if he is neutered) join the girls. I know he would love that. Brownie is a few years older.
I left GM is his old cage until the next morning as it was late. In the morning, I set up a cage for him. I put him in a shallow warm bath and washed him a bit and expressed his impacted feces. Then, he got to eat which he loves to do.
Georgie had a check up on 7/7/16. He was 3.1 pounds. Aside from the fecal impaction problem, the vet did not find anything wrong. I told him the impaction was common but he had never seen it. He looked it up in his book which said it was common in old boars and to feed more fiber and keep cleaning it out. So, I plan to give him a butt bath on Saturday evenings and just to express the clump of poo perhaps every Tuesday and Thursday. I have to get in to a routine. The vet said that neutering would not help. Given that my four pigs are old middle-aged, it does not make sense to have unnecessary surgery on GM. He will live his life apart from my other three pigs. I hope he is not too lonely. His cage is next to my old cat GK's cage. He can also see the mice. I would move the cage soon after to the other side of the room when I brought the plants in for the fall.
On 7/6/17, Georgie went to the vet for a check up. They remarked how clean he was despite the fecal impaction. They agreed that he has more dark wax in his left ear than his right (ten times the vet said) and more eye stuff in his left eye than his right. He lost some weight, down to 2.5 pounds but he was overweight.
Georgie became sick rather quickly. He had always eaten all his fruits and veggies and either on 5/10/18 or 5/11/18, there were some left the next morning. As both rabbits and guinea pigs can go a few days with reduced appetite, and I was super busy, I did not think too much of it. Then, on 5/12/18, his breathing became labored. It was bad enough that I believed he was not going to survive the day, and that it would not be worth the time, money, and stress of a vet visit. His breathing was better the next day though, and he wanted to eat some food. I noticed he seemed gassy, and he started to make smelly, liquid waste. I called the vet. They could not see him until Monday night and said to go to the emergency vet if I wanted to have him seen sooner but the emergency vet is not open during regular vet hours, and they know absolutely nothing about guinea pigs. I got him to his regular vet on 5/14/18 at 6 pm.
The vet said his front lymph nodes were greatly enlarged but not his back ones indicating an infection that he thought was in his respiratory tract even though his breathing and heart sounded normal at the vet visit. The vet gave me a new oil-based Baytril (enrofloxacin) liquid. It is tutti fruitti flavor. He thinks GM will be fine after a course of antibiotics so we will see. The vet said he had not lost weight but the receipt said he was 1.2 pounds while on 7/6/17, he was 2.5 pounds. I guess I need to check his weight.
---
---
Wind & Weather sells neat things for your garden!
---
---
Return to the main guinea pig page.
See the master index for the guinea pig pages.
---


Copyright © 1997-2018 Robyn Rhudy